You have the option of connecting external security technology in the form of a siren, a light source, PIR sensors and other devices to the recorder, for example to trigger a recording.
Step 1: Prepare the hardware (explained using a siren as an example)
1. Connect the siren to the recorder. The siren is plugged into both alarm connections. To do this, push the yellow clamp inwards with a screwdriver to insert the cable. When you connect a device of 5V to the alarm port of the recorder, the recorder will give an output of 5V. When you attach a device of 12V, the recorder will give an output of 12V.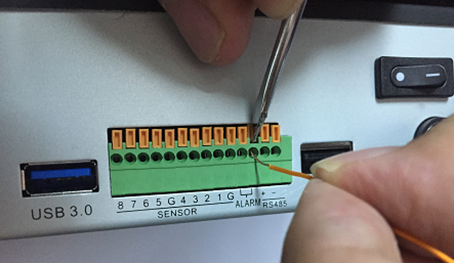 2. Make sure that both cables of the siren are connected to the alarm connections of the recorder.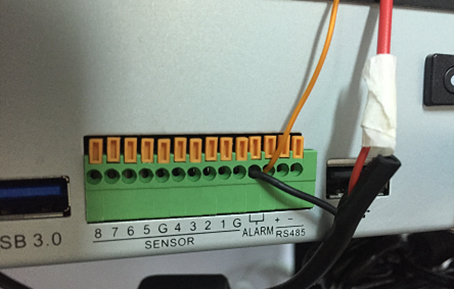 3. All other sensor connections serve as input connections. This means that you can connect additional sensors to the sensor connections, e.g. door sensors or PIR sensors. These can trigger a recording through the configuration on the recorder.
Step 2: Make settings on the recorder
1. Drag your mouse pointer to the bottom of the screen and click on the leftmost icon

.
2. Click on Settings.
3. Enter your password and click Unlock.
4. Navigate to Alarm and then Alarm I/O.
5. In the Alarm type column you can select the output status of the connection between the recorder and the sensor.
Always ON: If a door is open by default and should trigger an alarm when it closes.

Always OFF: If a door is closed by default and the alarm is to be triggered when it opens. If the door opened, the recording would start.

OFF: sensor is deactivated.
6. In the Cameras column you can specify which cameras are triggered by the alarm. Click Apply to save your changes.
7. Navigate to Record and then switch to Record and Record Schedule. Click on IO in the right area and mark the corresponding recording times for each camera channel.
8. Then click on Apply.
Technical details
Alarm input: 1 channel semaphore passive alarm, the specific connection method is shown in the following: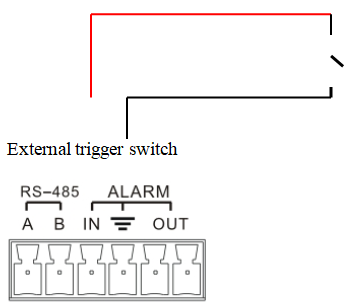 Alarm output: 1 circuit switching (external serial power supply must be within the range of DC12V voltage and 300mA current). See the following figure for the specific connection method: