Choose your device: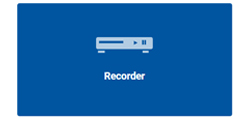 ---
Set on the recorder
Under certain circumstances, one or more cameras may no longer function properly and these must be reset to the delivery status.
Drag your cursor to the bottom of the screen and click the leftmost icon .

Click on Settings.

Enter your password and click Unlock.

Click Camera Maintenance and then click Load Default.

Click on the relevant camera and then click on Load Default in the lower area.

Then enter your password and click Authenticate.

A dialog with a timer appears. Once this has expired, delete the cameras under Cameras and IP channels using the red refuse bin.

The camera connects automatically after a few minutes.