Choose your device: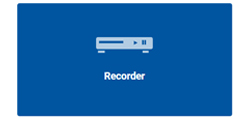 ---
Set on the recorder
By default, the recorder uses the DHCP service to assign the cameras the IP address in the network 10.10.25.x. If two cameras are connected at the same time, you will rarely get the same IP address. This changes the image of the affected cameras, or one camera remains in offline mode. This behavior can also occur if the camera is assigned a 192.168.xx IP address by your router.
To correctly IP address the cameras, proceed as follows:
Drag your cursor to the bottom of the screen and click the leftmost icon .

Click on Settings.

Enter your password and click Unlock.

Click on Cameras and then on IP Channels.

Check whether there is double IP addressing.

Then click System and Camera Maintenance.

Click on Factory Reset.

Select the corresponding camera and activate the checkbox in front of the Channel column.

Then click on Reset to factory settings in the lower area.

Enter your password and click Authenticate.

The camera is now reset. This process takes 60 seconds.

Then check again under Cameras and IP Channels whether there is correct IP addressing.
If the camera continues to receive an incorrect or double IP address, disconnect the Internet connection from the recorder and reset it to the factory settings.