Choose your device: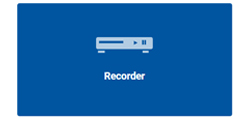 ---
You have 3 options to set the infrared function:
Option 1: GPIO Auto - the camera automatically switches from day to night view mode (infrared off / on).
Option 2: Color mode - the camera only films in color mode and does not switch to night vision.
Option 3: Black and white mode - the camera only films in night mode (black and white) and does not switch to color mode.
Use the recorder
1. Drag your mouse pointer to the bottom of the screen and click on the leftmost icon

.
2. Click on Settings.
3. Enter your password and click Unlock.
4. Navigate to the Cameras menu and then to Image Control.
5. In the overview, click on the cogwheel behind the desired camera channel.
6. The setting options of the camera are on the left.
7. Select the respective mode under IR-CUT mode.
8. When you have made the setting, exit the menu by clicking the right mouse button.